Freitag, 10.07.09
Parkside, Südstr. 54, Aachen
INFO-NOTES _ 10-07-2009 :: Beim ersten rein dubnotischen Nachtseminar im Aachener Parkside geben die Save-The-Robots Residents und Style-Hazadeure CLAUS BACHOR und THORSTEN HOFFMANN eine äußerst fundierte wie nachhaltige Einführung zum Thema elektronischer Dub-Übergrooves und Feierraketen, die sich hier vor allem über den signifikanten Zusammenhang phattester Beats und tanzwütiger Studenten "up to the XS" definieren.
Getanzt wird hierzu im Basement, was auf den Teller kommt: 80ies Disco-Dubmixes der Ära Zanzibar und Paradise Garage, Dub-Techno zwischen Modern Love, Hardwax, Berghain und Andersrum, Bay Area Space-House zwischen San Fran Disco und Los Angelos-Hab-Ihn-Seelig, Leftfield-Dub & 2Step/Garage für fortgeschrittene Feierwütige auf der Suche nach den rollenden Monstergrooves, Basic Channel-Tunes im weitesten Sinne per definitionem und Haste-Nich-Gesehen. Denn hier läuft alles über und neben dem Plattentellerrand, was unter dem Dub-Himmel kreucht und fleucht. Geht alles ! Kommt alle!
Und wem dies dann doch alles ist zu viel, kriegt dazu auch noch in der Lounge rund um die Bar relaxt smoothe Dancehall und Dubgrooves unter den runden Hintern, bis die Pobacken so richtig glühen, oder schlicht der Arzt aus der Kopfsülz-Praxis von Gegenüber vorbei schaut. Doc Udo wird`s dann bestimmt schon richten … =D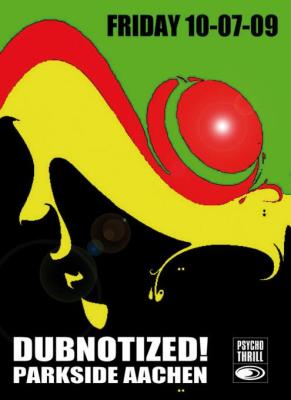 www.parkside-aachen.de
www.myspace.com/thorstenhoffmann
www.myspace.com/psychothrilla
www.psychothrill.de
ambrosius holtz - 8. Jul, 22:43