Saturday 14-03-2009 ::
PSYCHO THRILL Cologne pres.
"SAVE THE ROBOTS_ROBO DUST TRAXX"

PARKSIDE, Südstr. 54, Aachen _ 23:00

Techno-Floor:
special guest ::
MARC LANSLEY
[SubStatic Rec. / Baby I´m Electric / Subway, Köln]
www.sub-static.de // www.myspace.com/marclansley
CLAUS BACHOR
[Psycho Thrill Rec. / Authentic Music / Luvletter.org, Köln]
www.psychothrill.de // www.myspace.com/psychothrilla

THORSTEN HOFFMANN
[Third Wave / Headphunk / Psycho Thrill // AC]
www.thirdwavemusic.de // www.myspace.com/thorstenhoffmann

Micro-Disco-Lounge:

STEPHAN HENSE
[Psycho Thrill / Reset-2-Start, Köln]
www.myspace.com/stephanhense

WARUM FRANK
[Earsual / Authentic Music / The Danger Freaks P&P, Berlin/Köln]
www.myspace.com/warumfrank
Der März bietet diesmal erneut die Gelegenheit mit MARC LANSLEY in den Genuss eines Auftritts des derzeit umtriebigsten Kölner DJs und gleichzeitigen Mitgestalters von Berlin Vorzeige Techno-Imprint SubStatic zu gelangen. Der Kölner LANSLEY hat mit seinem SubStatic-Release in der Vergangenheit mehr als nur einen Achtungserfolg erzielt und sich daneben auch mit seinen imposanten DJ_Sets als beständiger Aktivposten in Sachen elektronischer Musik erwiesen, der sich nicht nur auf seinen Ruhmestaten der Vergangenheit ausruht, sondern diesen immer wieder neue hinzuzufügen versteht.
Gleichzeitig ist an diesem Abend mit CLAUS BACHOR und THORSTEN HOFFMANN das bewährte Psycho Thrill_SAVE THE ROBOTS Resident_Duo am Start, das den Kölner Kollegen angemessen musikalisch begleiten wird. Um die Qualität des Programms routiniert abzurunden, werden daneben auf dem zweiten Floor die Kölner STEPHAN HENSE und WARUM FRANK mit ihren loungigen und deepen Sounds zwischen Downbeat_Electronica und Minimal den Abend abrunden. Das Ganze wird zusätzlich unterstützt vom Hochschulradio Aachen.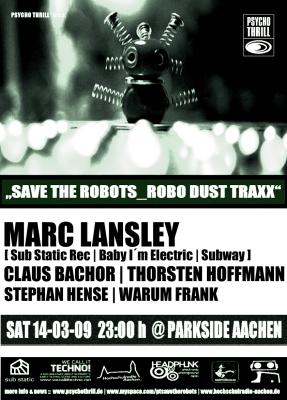 ambrosius holtz - 13. Mär, 16:36